Dr. Shailendra Raj Mehta
Non-Executive and Independent Director

Dr. Shailendra Mehta 56, is currently the Chairman of the Board of Management of Auro University and also a Distinguished Professor of Strategy. Prior to joining Auro University, he was Provost/Vice Chancellor of Ahmedabad University. Earlier to that, he was Visiting Professor of Business Policy at the Indian Institute of Management, Ahmedabad. He has done extensive research in the areas of Entrepreneurship, Industrial Organization, Information Economics and Experimental Economics. His research was the subject of a full-length review by The Economist.
His research on Simulation has resulted in the creation of hi-tech company and a US patent. He has been associated with reputed organizations such as IBM, Honeywell, Microsoft, Infosys, State Bank of India and others.
Prior to returning to India in 2006 to set up the collaboration between IIM-A and Duke CE, he taught Economics and Strategy for many years at Purdue University at US.
He done his Bachelor of Arts from St. Stephen's College and Master of Arts from the Delhi School of Economics, M.Phil from Balliol College, Oxford University and his Ph.D. in Economics is from Harvard University.
He has been appointed as Non-Executive and Independent Director on Board of JMC Projects (India) Ltd. w.e.f. February 8, 2012
Mr. Manoj Tulsian
Whole-time Director & CFO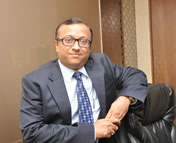 Mr. Manoj Tulsian, aged 45 years, is a qualified Chartered Accountant, Company Secretary and Cost & Work Accountant. He has more than 22 years of experience in the field of Finance, Taxation, Legal, Corporate affairs, Merger & Acquisition and Secretarial matters. He has served organization such as VIP Industries Limited, Gabriel India Limited and Bansal Group.
Mr. Manish Mohnot
Non-Executive Director

Mr. Manish Mohnot, aged 43 years, is a non-executive Director of our Company. Mr. Mohnot is a chartered accountant, and a certified SAP R/3 application consultant (accounting and controlling). He has completed an advanced management program from the Harvard Business School. He has about 20 years of experience in the finance and management consultancy. Currently, he is the managing director of KPTL. Previously, Mr. Mohnot was associated with KPMG. He has also been associated with Standard Chartered Bank.
Ms. Anjali Seth
Non-Executive and Independent Director

Ms. Anjali Seth holds bachelor degree in Law and advising and consulting to banks, financial institutions and corporates as a legal consultant. She has a rich and diverse experience of over 25 years including as a professional lawyer. Ms. Anjali has advised and consulted with top banks, financial institutions, and corporates, on a range of matters including M&A, PE Investments, industrial and employees relations, corporate governance, real estate negotiation, legal matters, statutory issues, litigations etc. Ms. Anjali associated in various positions includes International Finance Corporation, Swaadhar Finserve and ANZ Grindlays Bank. She had the opportunity to work in UAE with real-estate company, Emmar Properties. Ms. Seth served with Standard Chartered Bank as their Legal Head in India.